Our Commitment to the Customer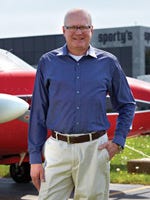 Dear Valued Customer,
When we founded Sporty's over 60 years ago, we made a "commitment to the customer," a commitment to sell only high quality products and back it up with unbeatable service. Today, we still believe in the old fashioned values of helpful, personal customer service. We know you have high standards – we plan on exceeding them every time you order from us. Here are just a few of the ways we do it.
Our guarantee
We stand behind everything we sell, and our promise has not changed since 1961: If for any reason you are not 100% satisfied with your purchase, let us know – we will make it right. If you would like a refund or exchange, please return the product within 30 days in the same condition in which it was received.
Real people on the phone
Unlike some companies, we're not afraid to print our phone numbers. That's because they're answered by real human beings right here in Ohio — not by computers. You can count on prompt, personal attention from our experienced staff.
Same day shipping
We're proud to offer the fastest service of anyone in the mail order business. If you order today before 4:00pm Eastern (weekdays), it will be on its way this afternoon.
Same day returns
For over 60 years, in addition to same day shipping, Sporty's has offered same day returns and same day exchanges. We know of no other company who does this!
Quality Products
There's nothing worse than buying a product that looks great in the catalog, only to be disappointed when it arrives. That's why we thoroughly test every product we sell before adding it to our selection; if it's in our catalog, it meets our high standards.
Best Price Promise
Sporty's guarantees competitive pricing on everything we sell. If you find another authorized dealer offering an identical item at a lower advertised price, just mail or fax us the ad, and we will match that price.
Sincerely,

Michael Wolf
Chairman & CEO
Sporty's catalogs
P.S. Stop by and see us sometime! Here's where to find us.